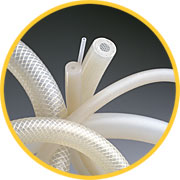 NewAge Industries offers a variety of silicone rubber tubing and hose products for use in high purity and industrial markets for various applications - medical, pharmaceutical, food and beverage, high temperature, and many more. Available in different grades to meet specific standards - FDA, USP Class VI, NSF (National Sanitation Foundation), and Good Manufacturing Procedures.
Our state-of-the-art, class 1,000 clean room is designed for manufacturing products particularly suited to medical and pharmaceutical applications, including platinum cured products to ensure the least possible extractables. Also, our industrial grades offer exceptional performance at relatively lower costs.
If you need assistance in selecting the product that's right for your application, or if you would like to place an order, go to the Contact Us section to find a listing of our Technical Support Staff.
Let us help you with all of your
Silicone Tubing and Hose needs
ABOUT SILICONE TUBING AND HOSE
Silicone tubing has long been used for medical tubing, as it meets the medical industry's requirements for cleanliness and non-toxicity. Another of silicone's major features — resistance to extreme temperature variations — has enabled its use in applications where a flexible tubing is needed to handle temperatures not possible with other plastics or rubbers.
A rubber-like thermoset material, silicone tubing and hose is extremely pliable and elastic, and it is not altered by the effects of weather. It generally exhibits inertness toward U.V., radiation, and ozone making it an excellent choice for electrically-associated applications.
TYPICAL INDUSTRIES AND APPLICATIONS
Aerospace, Automotive, Appliances, Beverage, Biomedical, Cell Culturing, Chemical Transfer, Clean Rooms, Cosmetic Packaging, Dairy Processing, Dental Equipment, Food Processing, Insulation Sleeving, Laboratory Use, Medical, Nuclear, Packaging, Peristaltic Pumps, Pharmaceutical, Robotics, Semiconductors, Steam Lines, Surgical Drains,and Many More.

High Purity Silicone Tubing and Hose Products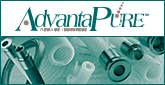 Our AdvantaPure division specializes in products for the biomedical, pharmaceutical, and biotechnology industries. Visit our Web site at: